I love crafting. Always have. I can't compare the sense of satisfaction with having created something beautiful with anything else in the world. I started really crafting the summer I was 9 years old. My grandmother spent that summer teaching me to embroider. She would draw a pattern on an old sheet and then show me the stitches I needed to use to complete the pattern. I can remember her painstakingly drawing those patterns in her scratchy hand with her tongue sticking out the side of her mouth. She kept that embroidered sheet until the day she died. I wish I knew what happened to it.
I'm 32 now and I still embroider. Not as much as I used to, but it's still a way to pass my time. Unfortunately, it's not a very "useful" craft. Not many people want embroidered pillowcases, table cloths or wall hangings these days. Plus there's the added problem of finding good patterns that aren't for machines. (While I know that no one can see me while I'm saying this, please imagine the derision in my voice and the sneer on my face as I say machine. It's a special tone reserved for things that are not handmade or homemade, but touted as such. That tone is usually reserved for cooking/baking from a box. *Please, please, please don't think that I look down on anyone for any of these, it's just not something that I do). Up until I got engaged I was fairly monogamous with my crafting. I embroidered and that was it except for a weak moment every once in a while. Here are a few pictures of a wall hanging I did a few years ago and a pair of pillowcases. The pillowcases won 2 place in the SC State Fair.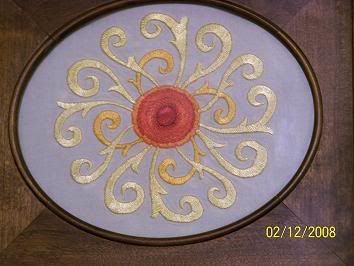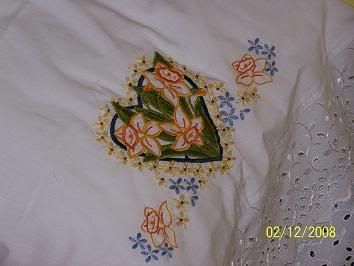 I tried crocheting briefly. My other grandmother crocheted. I figured I should have been a natural. I figured wrong. The only thing more painful for me, as a lefthander learning to crochet, was the removal of my wisdom teeth when I was 18. At the time I was the only lefthander who crafts that I knew of so I had to check out books at the library about learning how to crochet lefthanded. I knew it was a mistake when the first instruction said to hold the illustrations up to a mirror for a diagram of how to hold the crochet hook. I don't know about you, but we lefthanders always craft in front of mirrors. I never progressed past the chain stitch. Crochet was my one night stand. I needed something that was a bit more satisfying.
Then I discovered jewelry making. I liked jewelry. Liked the colors, the shapes, the materials, the beauty. But I did not like the price. What else is a girl to do, but try to do it better but less expensive? That lasted about a year and, of course, cost me more than it would have had I went out and bought it. Although I do have some nice earrings from it. That craft got boring, too expensive and it didn't put out enough, so I dumped it.
Then came sewing. Sewing, if I had more time, very well could be the be all end all of crafting for me. "The One" so to speak. I could learn how to make functional items like clothes, purses and other wonderful things for myself, but I could also sell! It's crafty, functional and it has the potential for being profitable, which in my books is the trifecta. I love sewing, but have problems making sense of patterns. I just don't have time to sit down and devote the time necessary. It's not sewing, it's me. I'm just not ready for the commitment.
Here's a picture of some of the bags I've made in the past. One day I'm going to make it past making bags and maybe venture into clothing.
Right now I'm in the middle of a new craft. I'm learning how to knit. So far it's been good to me, although I had my doubts when I realized there was a right versus lefthanded set of instructions. I didn't let that stop me. I decided to walk on the wild side a little and knit right handed. I finished my first project this weekend and when it came out the way it was intended, I almost felt weak in the knees. I'm sure that once I finish something of any substance like a sweater or socks I will be so excited that my husband may think he's no longer necessary. As long as it gives me that wonderful warm and fuzzy feeling, I think I'll keep knitting around for a while.
Here are some pictures. The first is made from a Merino wool blend yarn. The pattern is the "Ribbed for Her Pleasure Scarf" in the
Stitch n Bitch
book.
I made this for my friend, Heather who is currently living it up on vacation in London.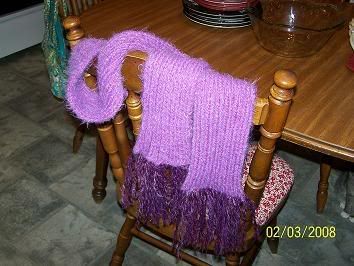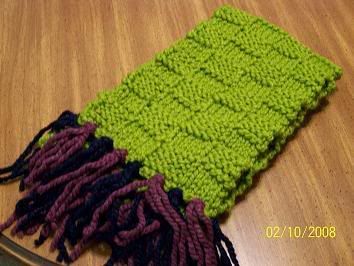 Here's my second scarf. It's in a checkerboard pattern made from Lions Brand Thick and Quick yarn. I haven't earmarked this one for anyone yet. It may end up as a future Christmas present to an undisclosed recipient.